About us
Research and Development Company "Promelectronica"  is one of the leading Russian companies in design, manufacturing and turnkey solutions in railway signalling. 30 years our systems have been ensuring train traffic safety on main lines, industrial railways and metro lines.
The Company's structure:
engineering center in Ekaterinburg;
scientific and research laboratories;
design division;
training division;
branches in different regions of Russia.
Signalling systems
Experienced and highly-qualified engineering staff and fundamental research database allow to develop the up-to-date railway signalling and telecommunication systems.
R&D Company "Promelectronica" creates functional and economical solutions for reconstruction and building of new objects or whole railway sections.
Nowadays our electronic interlocking and signalling systems ensure safety and control train traffic at stations, track sections and level-crossings. Innovative control systems using radio channel are being actively developed.
Application of unique and cutting-edge technologies makes our systems be capable to operate in any climate conditions at stations and lines of any length and complexity.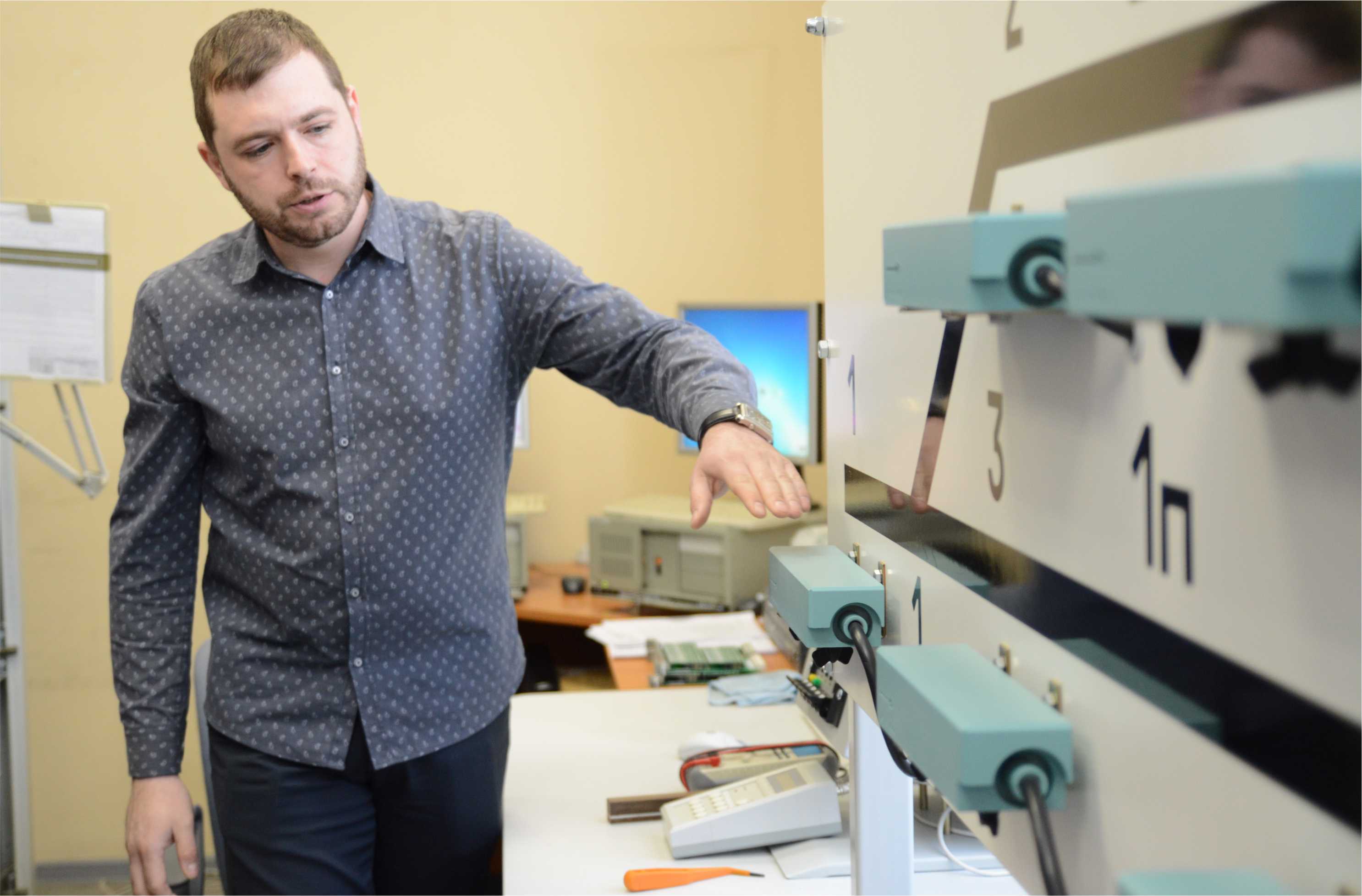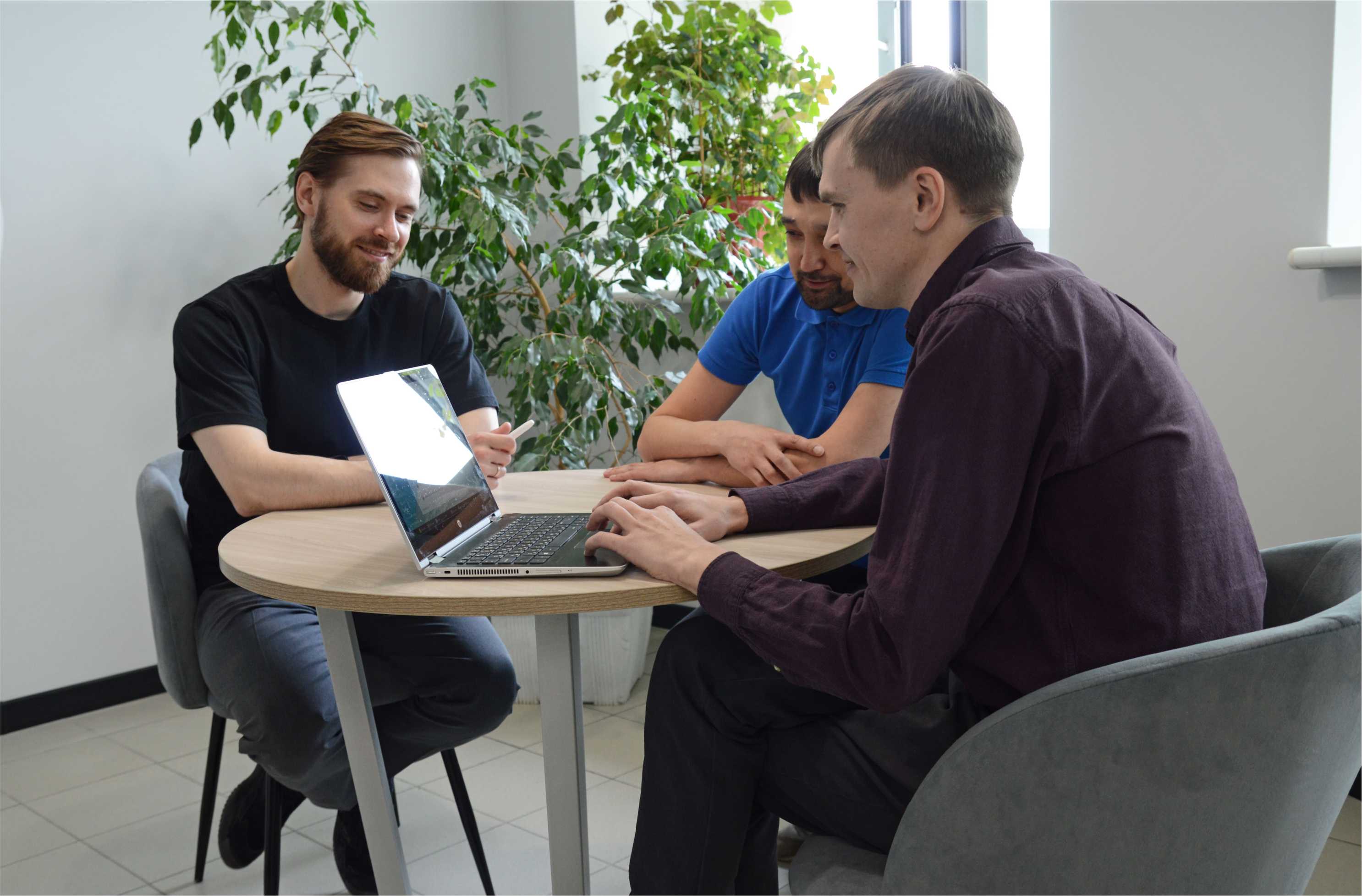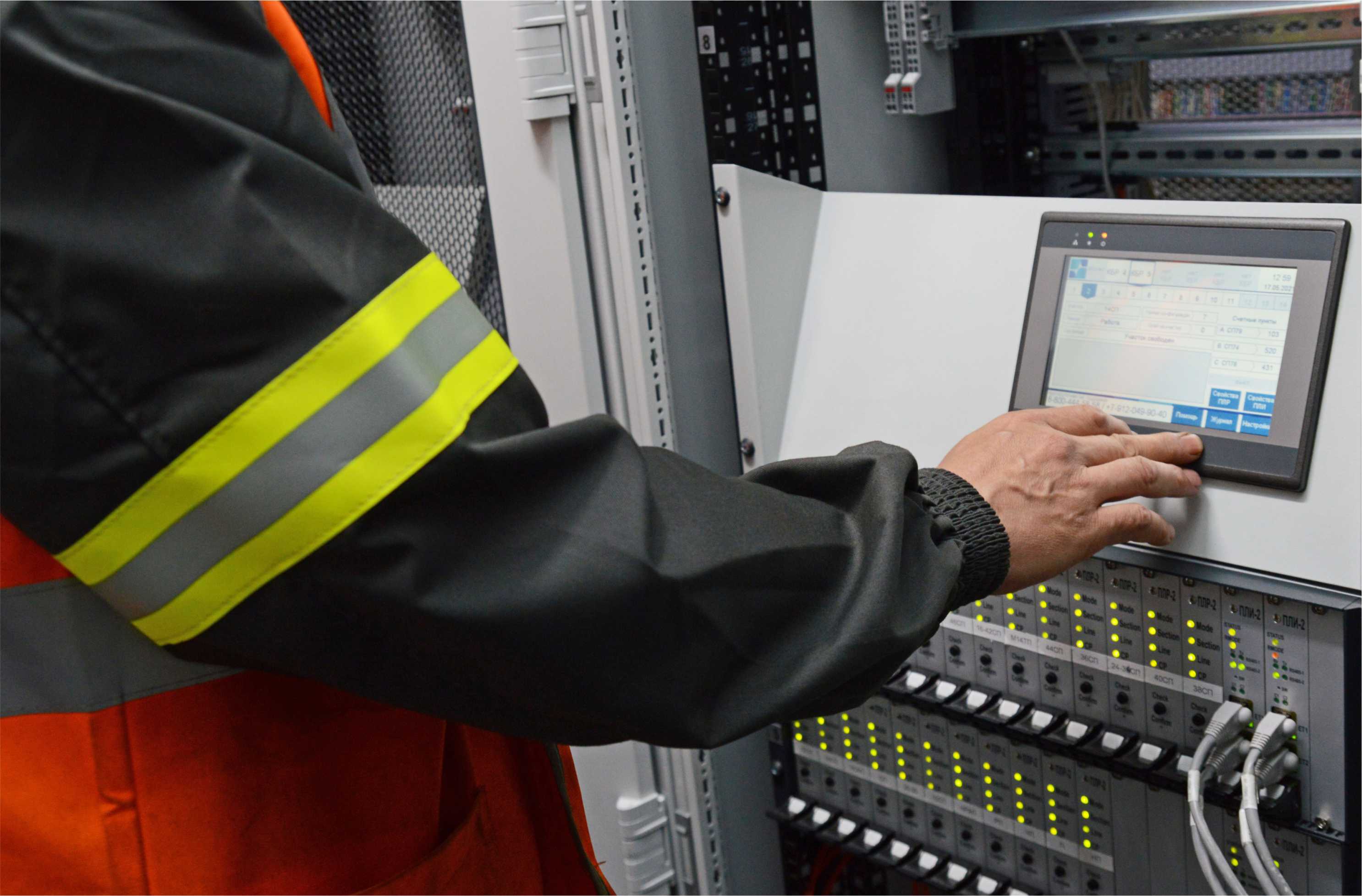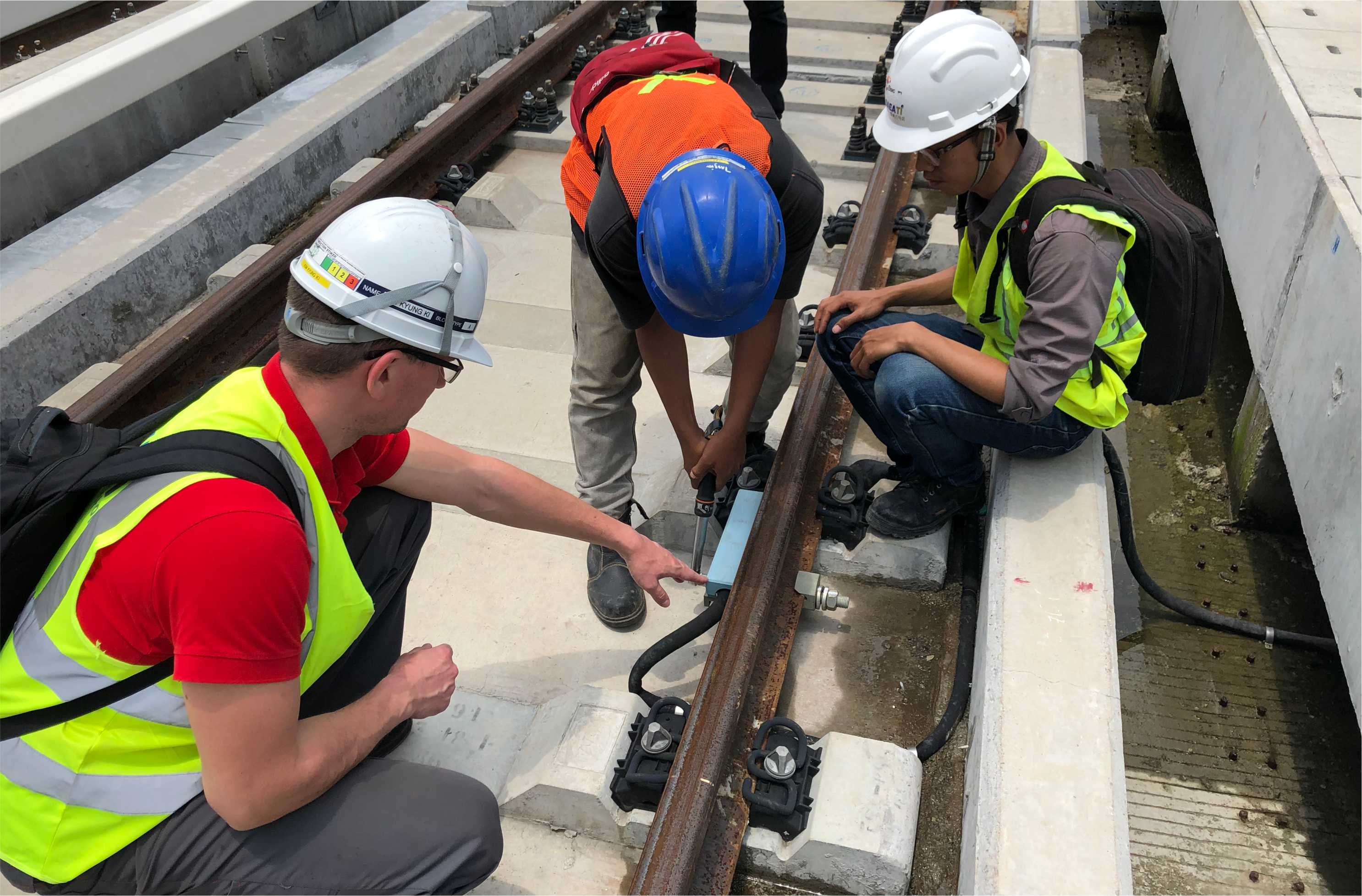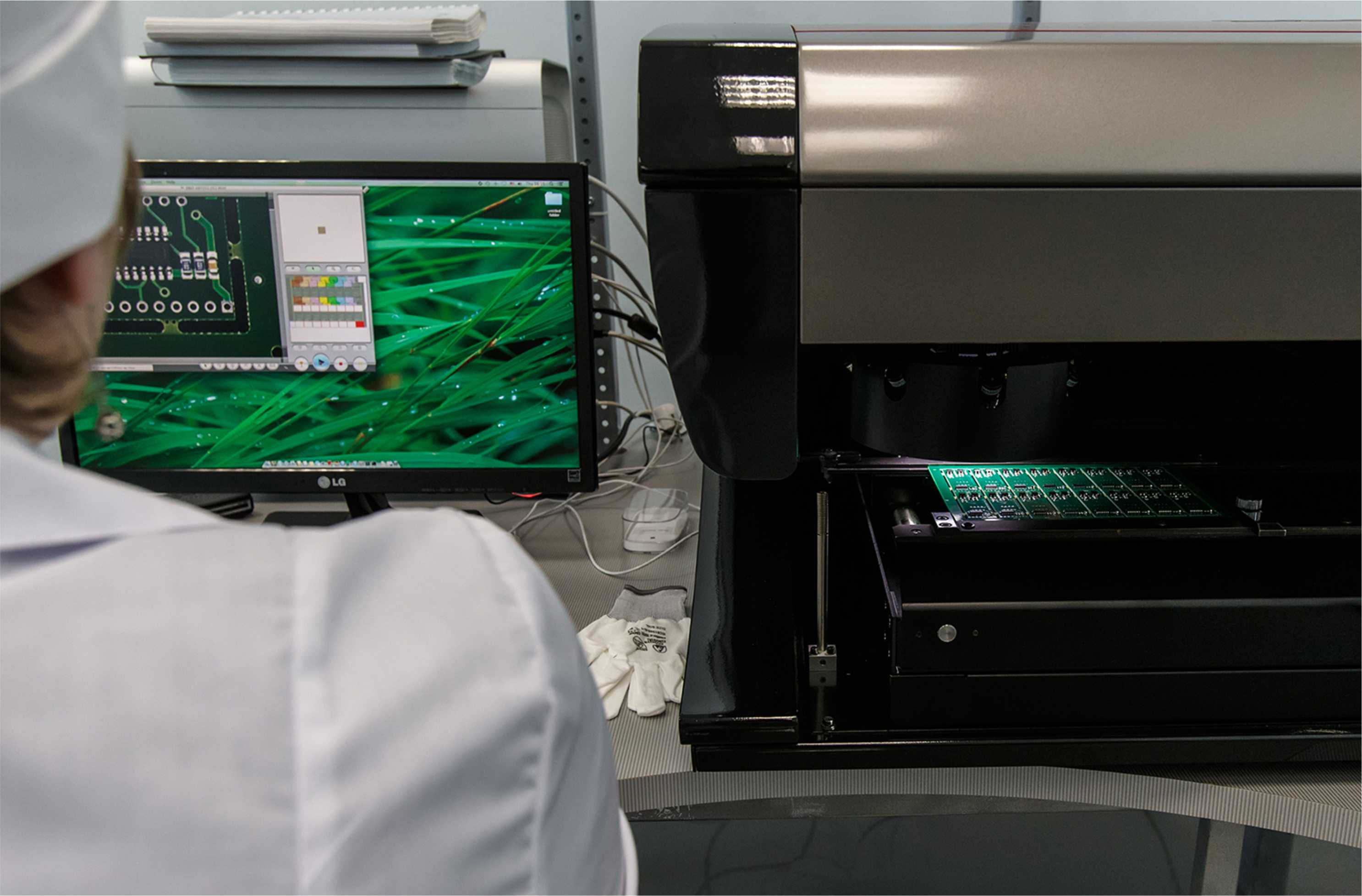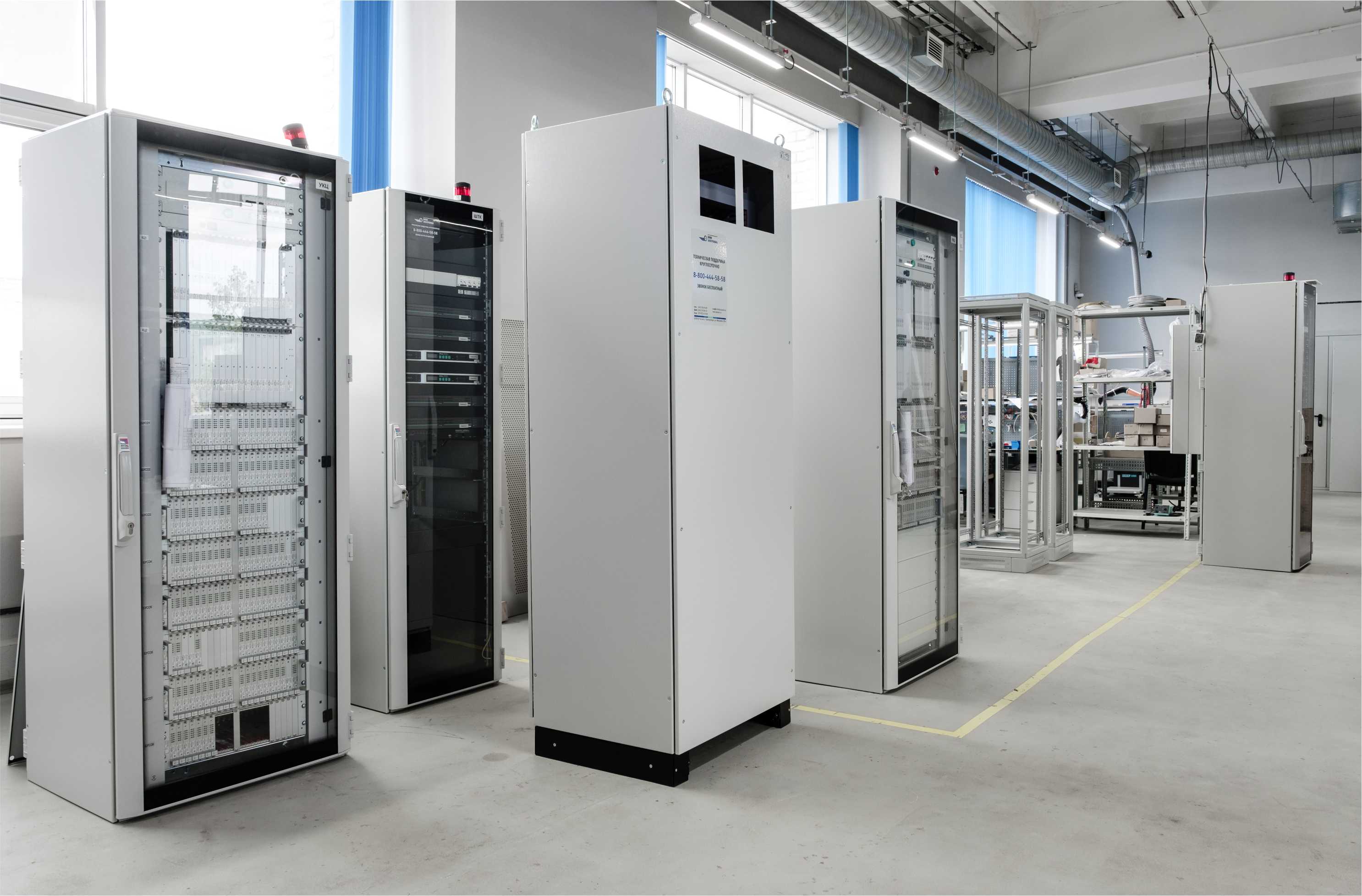 Our services
R&D Company "Promelectronica" tends to keep and support long-term and effective relations with the customers.
The important principle of our work is to provide complex of services for equipping an object or the whole section.
We perform range of works on system installation:
Design-and-survey
Delivery of equipment
Construction and installation
Training of the customer's staff
We also provide support and maintenance of implemented systems:
System operation monitoring
Warranty maintenance and post-warranty service
Modernization and supervision of systems throughout operating cycle
Branch offices in Russia and abroad are important part of the customer service. Also, we have a 24-hour toll-free number in Russia, interactive help for the operational staff is developed.
Quality policy
Since 2006 R&D Company "Promelectronica" has been officially working in compliance with the international Quality Management System based on standard ISO 9000. In February, 2014 Promelectronica has been certified for compliance with the International Railway Industry Standard (IRIS): design, development and technical maintenance of the railway automation, telecontrol and control systems and its components. This certificate confirms high quality of all systems, produced by Promelectronica, as well as implementation services. In 2018 our quality management system has been certified for a new International business management standard in railway sector ISO/TS 22163:2017.
All supplied systems are provided with the required technical standard documentation and have certificates of compliance, as well as are recommended for use on the Russian Railways.
Our systems are recognized not only in Russia but also in other countries. The axle counting systems ESSO and ESSO-M has been successfully assessed for compliance with SIL4 CENELEC. In 2014 TUV Rheinland assessed and found the electronic interlocking MPC-I compliant with the integrity level SIL4.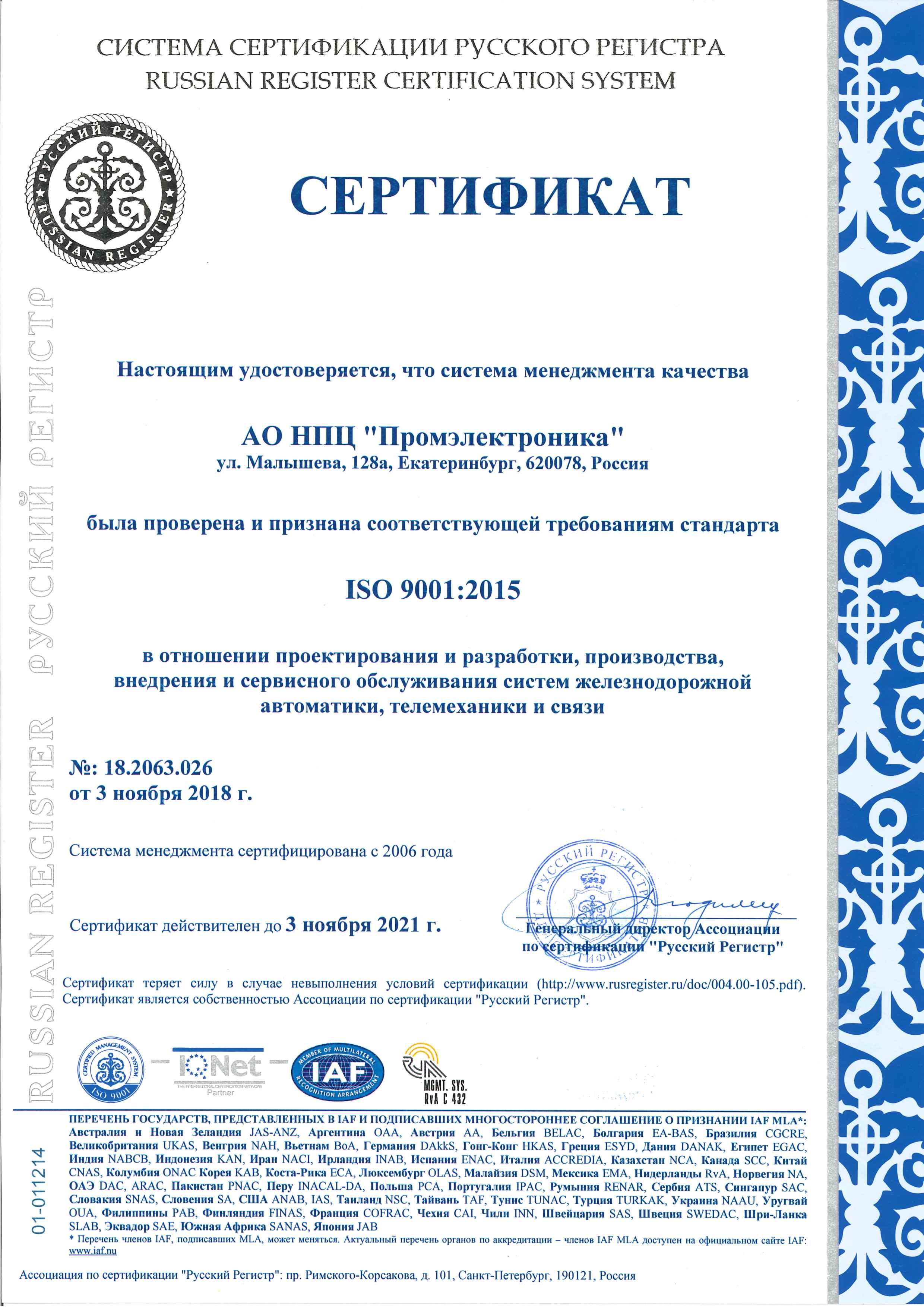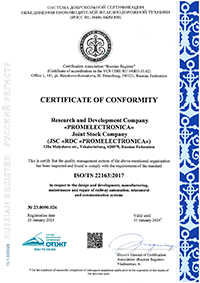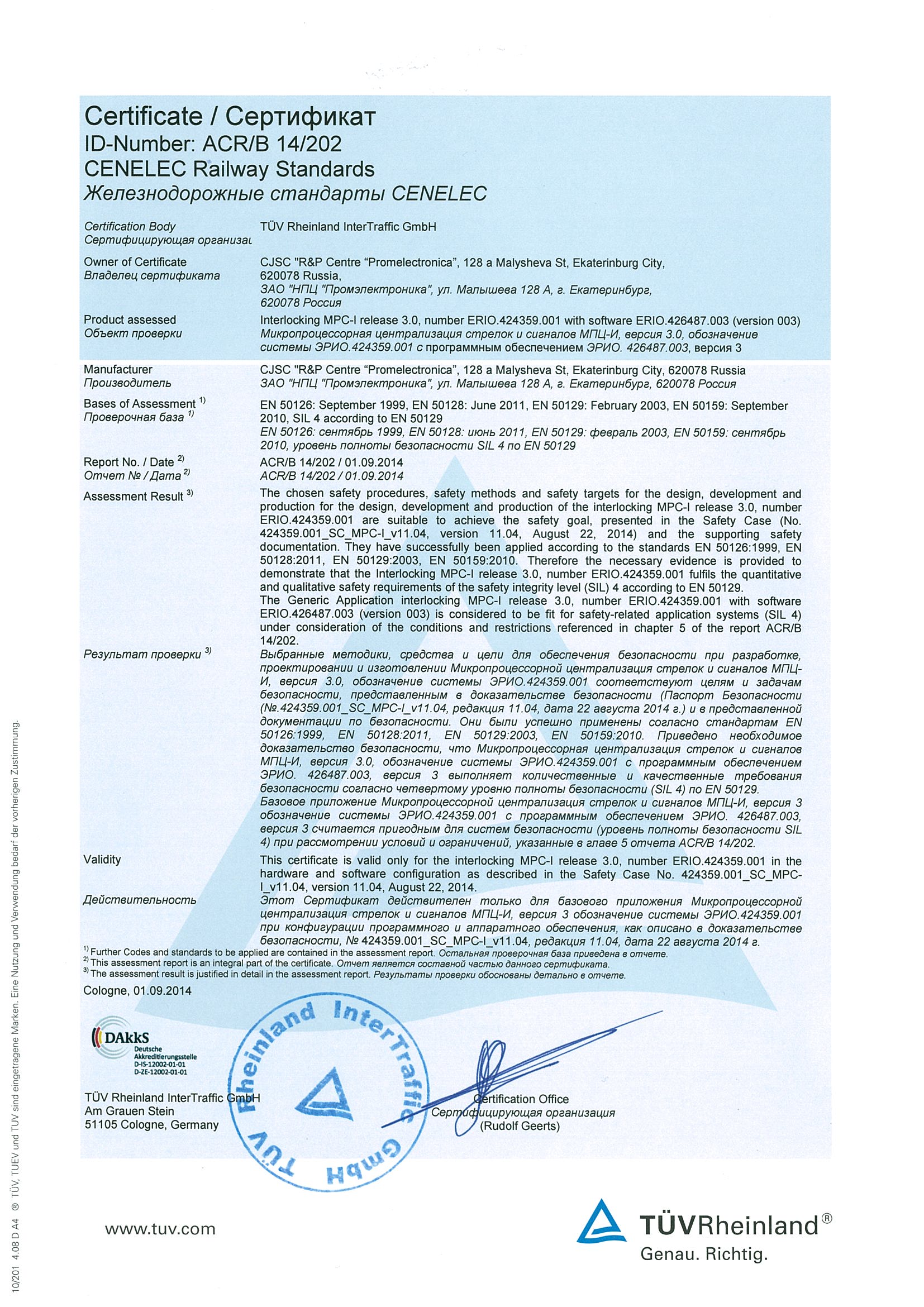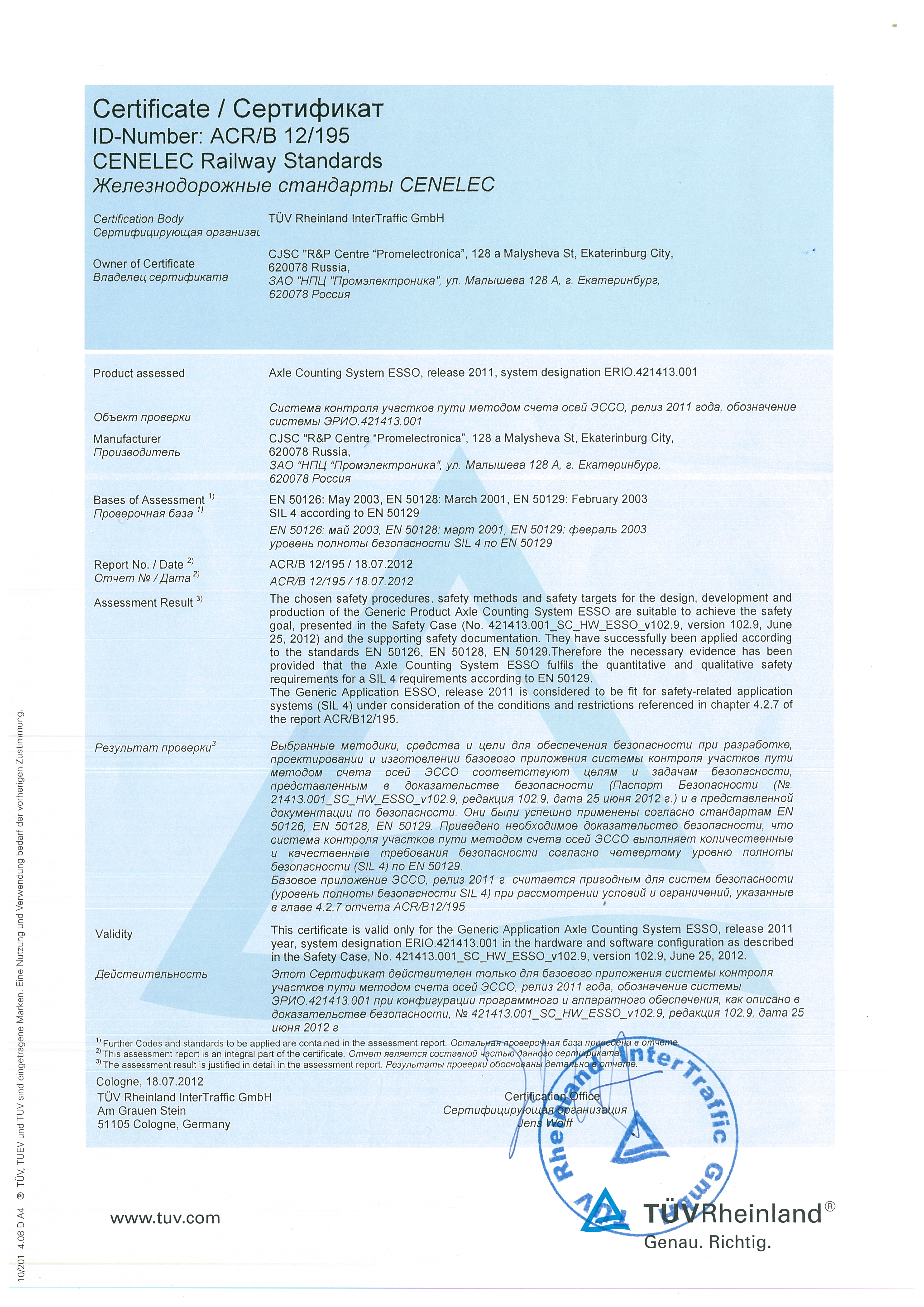 Our experience
Our systems are being operated in 21 countries: on all railroads of the Russian Federation, public and non-public railroads in Russia, CIS, Indonesia, Colombia, Brazil and other countries.
Promelectronica participated in the following large infrastructure projects:
Implementation of CTC on the section Urgal-Izvestkovaya (Far Eastern Railway);
Complex modernization of signalling equipment on Sakhalin Railway;
Construction of new line Khrom-Tau – Irgiz-Altynsarino in Kazakhstan;
Modernization of signalling equipment on section Korotchaevo-Noviy Urengoy (Yamal Railway Company);
Complex modernization of signalling equipment on South-Caucassian Railway;
Construction of new line Tashguzar-Kumkurgan in Uzbekistan;
Construction of new line Komsomolsk – Sovetskaya Gavan (Far Eastern Railrway);
Implementation of signalling equipment at Tumangan-Radzhin section in North Korea;
Modernization of railway infrastructure of such enterprises as JSC "GMK "Norilskiy Nikel"; JSC "Severstal", JSC "Apatit", JSC "Magnitogorsk metallurgical plant", JSC "Mikhailovskiy GOK", JSC "Pervouralsk pipe plant" and others.