InnoTrans - 2012
25.09.2012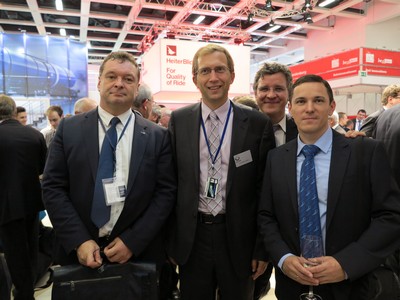 International Trade Fair for Transport Technology InnoTrans 2012 has taken place in Berlin from 18th to 22nd of September 2012. Research and production centre "Promelectronica" participated second time in such a principal world forum for the railway transport. 
All exhibition areas of Messe Berlin were occupied by exhibits of the participants for the first time of exhibition organization. More than 2500 companies from 49 countries participated in this event, herewith more than 100 000 specialists visited trade fair.
There were five segments at 9th trade fair InnoTrans: Railway Technology, Railway Infrastructure, Tunnel Construction, Interiors and Public Transport. Full range of rail vehicles in number of 115 models were presented on Messe Berlin tracks of the length 3500m located outside the exhibition halls.
Exhibition stand of R&P Centre "Promelectronica" was styled under the train with conference room as train compartment, where trade visitors could know about current developments and solutions in field of the train traffic safety ensuring, have consultations with the specialists and direct discussions with the company's management. Meetings and discussions with the representatives from international and Russian companies took place at our stand every day. Our directors and specialists visited and studied products and offers from the other exponents.
It is pleasant to note that almost all the leading world companies in the field of railway signalling and telecommunication have visited exhibition stand of R&P Centre "Promelectronica" and invited for discussion to their exhibition areas. On a friendly party of our partner company Alstom there was informal meeting and discussions between senior management of R&P Centre "Promelectronica" and Henri Poupart-Lafarge, president of Alstom Transport.