InnoTrans-2014
01.10.2014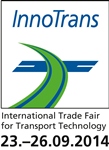 R&P Centre "Promelectronica" at international trade fair for transport technology.  
From 23rd to 26th of September the tenth international trade fair for transport technology InnoTrans-2014 took place in Berlin. This anniversary exhibition has become the largest in the history of InnoTrans: about 3 000 companies from 55 countries presented their products and services in the field of rail transport in Messe Berlin.
R&P Centre "Promelectronica" for the third time participated in this event with an exhibition stand.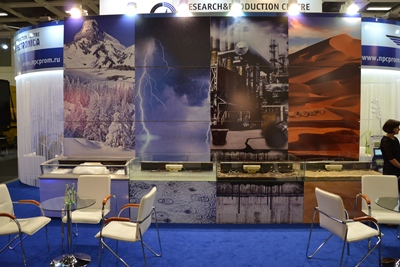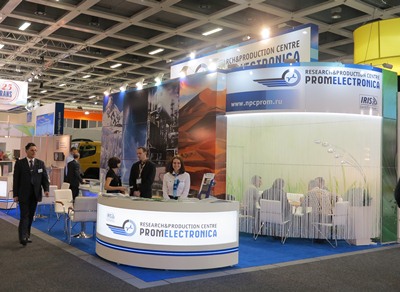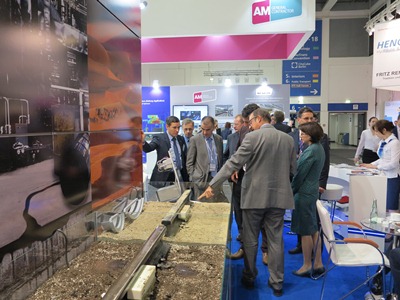 InnoTrans – is the leading exhibition of the world importance in the field of rail transport, which takes place in Berlin every two years. Five main segments of InnoTrans exhibition are: Railway Technology, Railway Infrastructure, Public Transport, Interiors and Tunnel Construction.
 Technologies for different operational conditions
Exhibition stand of R&P Centre "Promelectronica" was located in Hall 5.2. in the segment of Railway Infrastructure. This year the exhibition was dedicated to the company's unique range of climatic and operational conditions in which Promelectronica systems are operated. The special feature of the stand was the demonstration of operation of an axle counting system ESSO-M in various conditions: zones with a real ice, water and sand were created as well as real industrial operating conditions have been presented. Visitors could see the system in operation – wheel sensors were connected to the modern tower equipment of ESSO-M system, use wheel imitators, try system for the influence of external metal objects.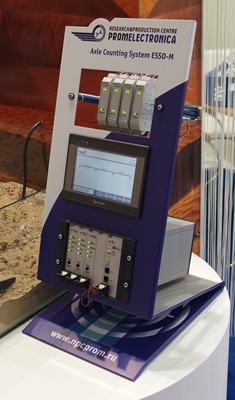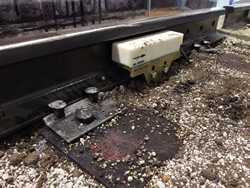 ESSO-M is able to control the track sections of any length and configuration. In comparison with ESSO, it is possible to get extended process and diagnostic information, displayed on LCD-panel with intuitive interface, for example: number of axles, passed across each counting post taking into account the direction, pre-fault state of communication channel with the counting posts. The main advantage of ESSO-M – interfacing with the upper-level systems over the digital channels. For the interfacing with the microprocessor systems digital serial interface is used, for interfacing with relay systems – inbuilt safe interface type "dry contact", not requiring external relays. At that, serial interface can be adapted to the customer requirements. System also has protection against failures during counting of axles when snow-removing machines are passing.
 Also, station operator terminal (ARM DSP) for the microprocessor interlocking system MPC-I was demonstrated on the stand. Specially for the exhibition software was translated into English. We would like to note, that our MPC-I system is already operated in the European Union – MPC-I has been put into service this year at Kermen station in Bulgaria.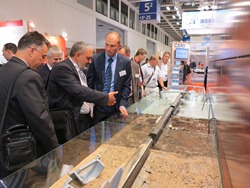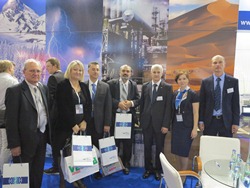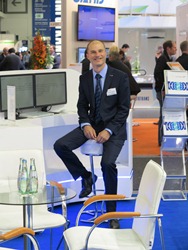 Alexey Nagovitsyn, International Affairs Director of R&P Centre :Promelectronica":
"I am pleased to note the growing interest in our developments, as well as recognition of the company and the systems from the side of the railway industry representatives in other countries. Our systems are adapted for use in different climatic conditions, are operated in areas with different traffic density, have high safety parameters and are competitive in prices. "
International quality standards
In February 2014 R&P Centre "Promelectronica" has been certified for compliance with the international railway industry standard IRIS. InnoTrans exhibition has become a representative platform for the official ceremony of awarding the IRIS certificate. Bernard Kaufmann, IRIS general manager of the European railway industry association UNIFE, handed over the certificate to Igor Chuvilin, General director of R&P Centre "Promelectronica", and thanked for the high level of business management.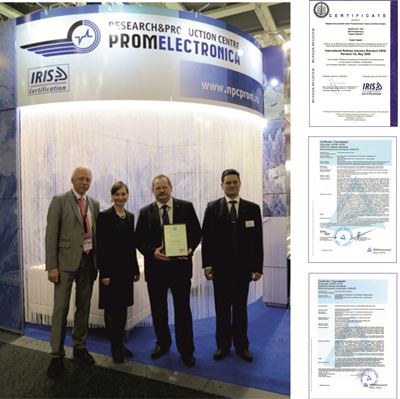 Since 2006, R&P Centre "Promelectronica" operates in accordance with an international quality management system based on ISO 9001. In 2012 R&P Centre "Promelectronica" received a certificate of compliance with the highest safety integrity level- SIL4 of the European Standard CENELEC for axle counting system ESSO. This year, CENELEC SIL4 certificate was received for the microprocessor interlocking system MPC-I.  
 Vadim Lyanoy, Business Development Director – quality authorized of R&P Centre "Promelectronica":
"IRIS certificate is a documented proof of the high level of the business management system of the company, comparable with the management of the world's largest manufacturers of railway equipment. And, of course, certification of the systems for CENELEC is a necessary condition for entering the European markets and the indisputable confirmation of the quality of our products."