R&P Centre " Promelectronica " received IRIS certificate
20.02.2014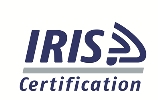 In February 2014 CJSC "Research and production centre  "Promelectronica " successfully passed the certification audit for compliance with IRIS (International Railway Industry Standard), as evidenced by a certificate.
Scope of certification is design, development, manufacturing and maintenance  for the railway automation, telecontrol and control systems and its components and remote control and their components. This certificate confirms the high quality of all systems produced by R&P Centre "Promelectronica" , as well as implementation services .

IRIS standard was developed by the working group of the Association of  the European Rail Industry  (UNIFE)  in order to create a business management system that allows continuous improvement , focusing on reduction of the number of defects in the supply chain .
It should be noted that since 2006 year the work of R&P Centre "Promelectronica" is officially built in accordance with the international quality management system based on ISO 9000 .  R&P Centre "Promelectronica"  became the first Russian company in the industry who received certificate of compliance to the highest safety integrity level SIL4 of CENELEC standard  (for axle counting system ESSO) and is a holder of awards of JSC "RZD" contest for the best quality of the rolling stock and complex technical facilities.