Signal+Draht-2014
12.11.2014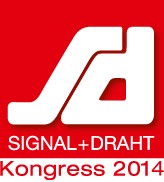 The 14th international congress Signal +Draht took place in Fulda , Germany from 6th to 7th of November 2014.  This event is organized by the reputable  scientific and technical magazine  Signal + Draht and annually brings together representatives of the European railways and developers of the train traffic safety systems for discussion  the most actual  issues and trends in the development of the railway industry of the European Union. Igor Tilk, commercial director of R&P Centre "Promelectronica", traditionally took part  in Signal+Draht congress.
This year the main topics for discussion were devoted to problems of implementation of ETCS-projects in Germany, Austria, Switzerland and other countries. Of course, problems exist. Most oftern these problems are concerned arrangement of data transmission over radio channel, usage of the open networks.  Also, part of reports were devoted to the cybersecurity items.  All this, along with the overall objectives for improving safety of train traffic, is of high interest of the heads of the European railways.  
Representatives of JSC "NIIAS" and St. Petersburg State Railway University participated also from Russia in the congress.