Trans ZhAT-2014
21.10.2014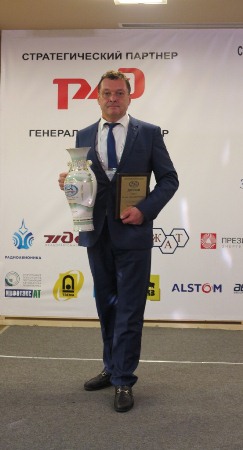 From October 15th to 17th the seventh international scientific-and-practical conference "Railway automation and telemechanics" took place in Sochi, which was associated with an exhibition of achievements in the field of automation and telemechanics "TransZhAT 2014". This is the biggest event in the field of railway signalling in our country and a large professional event. This year, "TransZhAT" reached a significant milestone, it was exactly 10 years since the first conference and exhibition. R&P Centre "Promelectronica" traditionally was a sponsor and participated in all activities of "TransZhAT".
On the exhibition stand of R&P Centre "Promelectronica" were presented in full-scale microprocessor interlocking MPCI and our new developments – axle counting system ESSO-M and non-relay automatic level-crossing protection system MAPS-M.
At the plenary session of "TransZhAT-2014" Vadim Lyanoy, Business Development Director of R&P Centre "Promelectronica", presented a report "From TransZhAT to TransZhAT" : a look of the manufacturer of the railway equipment. Stand reports of the participants also have become a tradition - this year our stand exposition was presented to Valentin Gapanovich, the senior vice president of innovation development - chief engineer of JSC "Russian Railways", and Nikolay Baluev, deputy chief of the directorate of technical policy and development of the central directorate of infrastructure - a branch of JSC "Russian Railways ". It is pleasant to note, that our offers in train traffic safety assurance excited interest of Vladimir Chepets, acting head of Roszheldor (FAZhT) - chairman of the Board, who officially visited "TransZhAT 2014".
Our participation was noted with a memorable prize from the organizators and a diploma for third place in the competition for the best stand. Visitors noted the bright and colorful design of the stand, in the center of which unusual tree was in blossom. On each leaf there was a name of systems and devices, our main achievements in the field of business management, development, production for the last two years. We are proud of our experience and solutions in the field of modernization of the railway infrastructure, wish prosperity to customers and partners of R&P Centre "Promelectronica" and all professionals of the railway industry!