MAPS
System enables control of all existing level-crossing signalling devices: level-crossing light-signals, audio signalling, barriers of all types, obstruction devices and signals. Herewith, all set-up dependencies remain unchanged.
System provides alerting and operation of level-crossing signalling executive units by train approaching to the system coverage area on any of monitored track and independent on track specification and block signalling operation. Cancel of alert and level-crossing opening is implemented upon condition that end of a train passed the level-crossing and all alerting sections are free on all monitored tracks.
Level-crossing sections are controlled by wayside units of ESSO.
MAPS is a low-maintened and simple-to-install block-modular system enable to equip all non-watched and guarded level-crossings located on single-track and multi-track lines with any traffic density.
MAPS can be used with any type of block signalling as well as on the sections without intermittent traffic control system.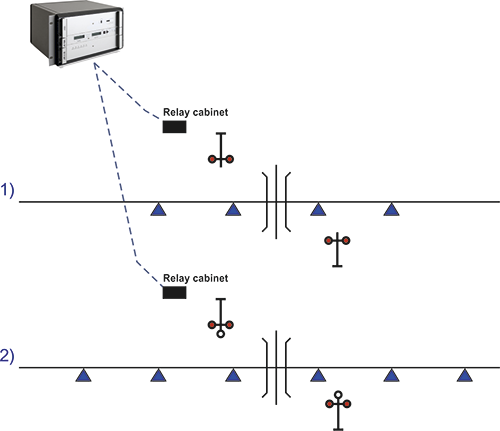 Download "Level and pedestrian crossing control systems" brochure
MAPS level-crossing block;
ESSO wayside equipment.
MAPS level-crossing block is capable to transmit to the nearest station via VF-channels control and diagnostic data on operability and failures of counting posts, vacancy/occupancy of track sections under the control and status of MAPS block.
Block structure of MAPS enable to execute redundancy of any degree set up by the customer.
MAPS is a high reliable system keeping all the functions when up to two counting posts are fault.
supply voltage, DC: from 11 to 36 V;
supply voltage, AC: 16 V;
power consumption: not over 15 VA;
operating temperature range: -60..+85°С;
overall sizes: 310х266х171 mm;
for the connection with digital signalling systems interface RS232/485 is provided using open protocol MODBUS.
reduction of expenses on capital construction, installation and maintenance of tower equipment;
reduced number of relays;
non-availability of track circuits enable to reduce operational costs and exclude losses due to steal of copper-containing materials.