SGP-MS
SGP-MS is intended for centralized power supply of MPC-I equipment or other analogue on the sections with any type of traction or for replacement of old type supply systems.
SGP-MS system executes reception, distribution, conversion and record-keeping of electric energy; protects power supply lines from atmospheric and commutating voltage, short circuits, pulse overvoltage; executes control of electric energy quality, commutation of feeders and electrical isolation of supply circuits.
Different types of SGP-MS enable to select optimal version of power supply system corresponding to the required level of power and redundancy period.
SGP-MS system executes all tasks required for reliable, uninterruptable and quality power supply of signalling systems.
The system is provided with standard project documentation.
Depending on the type of SGP-MS, the system contains following units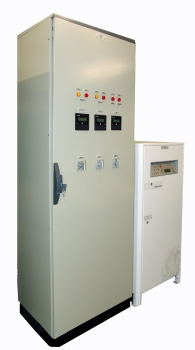 power-off and protection switchboard;
distribution terminating cabinet;
terminating cabinet, distribution cabinet;
transformer cabinet, isolated transformer;
uninterruptable power supply unit;
accumulator battery, battery switchboard;
automatic standby switchboard.
Uninterruptable supply unit (UPS) provides power supply of all trackside and tower equipment at station.
power supply backup time: 10 min, 2 h, 4h or 8h;
nominal load capability of system: 10, 15, 20 or 30 kW.
reduction of operational expenses on maintenance of signalling equipment due to reliability raise and using of integrity diagnostic facilities;
assurance of uninterruptable power supply that enable autonomous operation of station up to 8 hours;
option to select technology and value-added type of system corresponding to all parameters of object;
reduction of specified time for search and removal of failures due to automatic archive support by UBP.